GIUSEPPE REPETTO WATER HOUSING FOR CANON EOS
I have project and constructed personally and manually this watercase hausing for my Canon Eos 50e.
I have used of the plastic material, mainly formed from PVC and Poliretano.
I have constructed also the pistol grip, with incorporated the suddenly eletronic push-button.
The frontal part is removible, for being able to insert the photocamera.
This housing currently is constructd in order to use the Canon 24 mm, but I'm elaborating the system in order to replace the frontal part and to insert various duom of different lenses, like tha Fish-eye to several zoom Canon.
In order to render the housing completely watertight, in the parts that are opened, i have used the Silicon tube, like packing.
I have made this housing in 1997, in this period I have not never had problems of water infiltrations and work very well.
I'm very happy and satisfying of my housing.
In 2005 I have made some modifications, now I use my Housing, with the Canon Eos 20D, with the 20 mm, 50 mm and the 85 mm.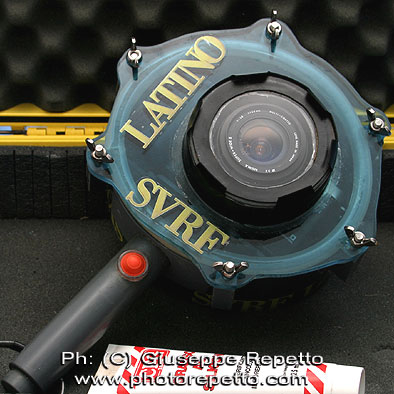 Water Housing for Canon Eos 40D, 20D, 10D, 50e and 30, with
Front dome in Optical Crystal for Canon Eos 20mm USM, 24 mm. 35 mm, 50 mm, and 85 mm
Made by Giuseppe Repetto