Page 1 of 4
Honolulu, HAWAII - (Monday, January 7, 2002) - -
Six-time world surfing champion Kelly Slater settled a personal score today by winning the world's most prestigious and honorable big-wave surfing event, the Quiksilver In Memory of Eddie Aikau at Waimea Bay, Hawaii. Since first breaking into the world of professional surfing as a teenage kid raised on the small waves of Florida, Slater has felt the need to prove his worth in big waves. He did that today, adding another page to his storied professional surfing career that so far none have come close to topping.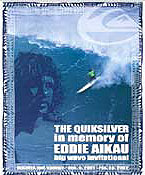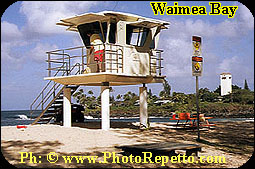 Waimea offered a picture-perfect backdrop for Slater's win with blue skies, smooth-faced waves in the 20 to 30 feet range (full face value of between 25 and 40 feet) and a capacity crowd of more than 5,000 that brought traffic along Kamehameha Highway to a stand-still. Runner-up positions were filled by a pair of Australians - Victorian Tony Ray and West Australian Paul Paterson placing second and third overall respectively. Top placed local surfer was Big Island's Noah Johnson, the winner of the 1999 Quiksilver In Memory of Eddie Aikau, who finished fourth today. Clyde Aikau, younger brother of the event's namesake, finished eighth overall today.
Just one month shy of his 30th birthday, and with barely a stone unturned by way of surfing titles to his name, Slater shocked himself with today's victory. Despite being the first to admit that big wave riding has never been a specific focus of his, you would never have known judging by his performance. His relaxed approach to today's competition and his reverence at simply being invited into the event added up to an incredible day of surfing that could only be bettered by the $55,000 winner's check he pocketed. Ray earned $10,000 for second and Paterson won $5,000 for third. "I'm shaking," said Slater after realizing the victory was his.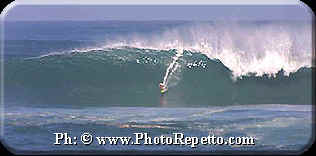 "I don't even know how to take it. I was kind of cruising out there. My first round heat was good and I didn't have anything exceptionally great in the second round, but my bigger waves were probably just over 20 feet and I felt good. I thought it would be close but I didn't expect the win. I'm just going to have to sit back and think about it for a while. "In truth, my whole energy has never been about big waves. For me it's just a huge honor to be invited to this event in memory of Eddie Aikau. For sure it settles a personal score for me by proving myself in big waves. It was like being 18 years old (when he first broke into the professional ranks) and having to prove myself all over again."
Slater's total score for the contest, based upon his top four rides after two rounds, was 319 points out of a maximum 400. Ray was painfully close on 317, Paterson on 316, and Johnson on 314. The highest scoring single ride of the day was a near-perfect 97 points, scored by North Shore local John Gomes for a spectacular take-off and ride on one of the monster sets of the day.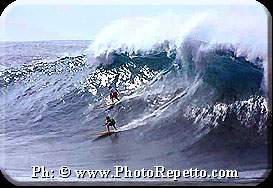 For Ray, second place wasn't a new landmark, having placed second in 1999, but it did offer some much needed cash and delivered one of his life's lessons. "I've been coming to Hawaii for every winter since 1983 and this place is a special one for me," said Ray. "I was on Maui this-morning and had to make the decision whether to compete in a tow-in surfing event that was going on there today, or "The Eddie". I felt that it was right to come back for this contest. This is Hawaii and this is a true Hawaiian event. I felt like I had to give something up, but it turned out. It has been one of life's great lessons for me. "I was stone broke this morning. I literally had $10 to my name, so this is awesome."
The Quiksilver In Memory of Eddie Aikau surfing event has been running for 16 years but has in fact only been run to completion a total of five times, including today's event. In honor of Aikau, a legendary Hawaiian waterman, lifeguard and Waimea Bay surfer, the Quiksilver is only held when wave heights exceed 20 feet and allow for a full day of competition.
"This is the kind of day that Eddie would have gone out and had a great time," added Ray.
Contest director George Downing is himself a legendary waterman who surfed Waimea Bay on many big days with Aikau. As the man who gives the event the green light, Downing understands the true spirit and meaning of the event better than anyone.
"This event captures everything that Eddie was, a lifesaver, a big-wave rider and someone who loved to surf at Waimea Bay," Downing explained. "For those of us involved, we cherish this way of honoring Eddie. The event is about recognizing a special person who was brought up in Hawaii, in a true Hawaiian family, who gave his life to save others. Even those years we don't run, the event still happens. That we actually get to surf it, actually get the waves we need, is the icing on the cake."It's a difficult event to run because it has a lengthy waiting period that runs from the start of December to February 28 each year. You need at least eight hours of consistent surf and a lot of times these big swells have a short life span.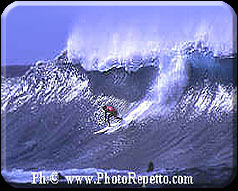 People ask me from year to year how I can continue on with something that is so difficult to run. My answer to them is simple: I don't have to make a decision. The Bay calls the day."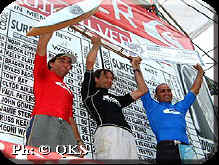 Indeed, today was one of those special days. A day that Aikau would have graced the lineup with his presence; a broad Hawaiian grin that appeared at dawn and didn't leave the line-up until dusk. They used to joke that Eddie Aikau took his lunch out with him on big days - the first one out and the last one in. In truth, he simply fed on being out there and dropping into huge waves for a feeling of exhileration that only those who ride can know.As the first official lifeguard on Oahu's North Shore, at Waimea Bay, Aikau saved countless lives. Ultimately, at the age of 33, he gave his own life in an attempt to save others.
During a re-enactment of the Polynesian voyage from Hawaii to Tahiti, sailing by the stars on a traditional canoe, Aikau and his fellow crewmen encountered a huge storm that capsized their boat during the night in the Molokai Channel. Aikau was last seen doing what he was best known for - paddling off in huge waves to get help. He was lost at sea on March 16, 1978. His spirit and legend live on.