GIUSEPPE REPETTO PHOTO EQUIPMENT TRAVEL TRANSPORTATION
under costructions....!! Come back soon

Lowepro Dryzone 200 and Lowepro 600 AW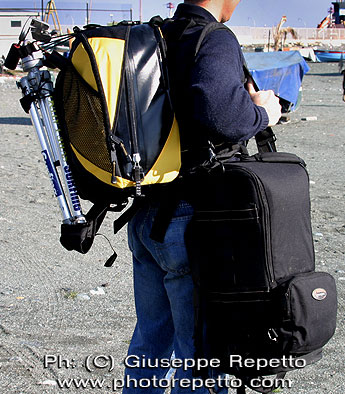 Lowepro Dryzone 200 and Off Trail 2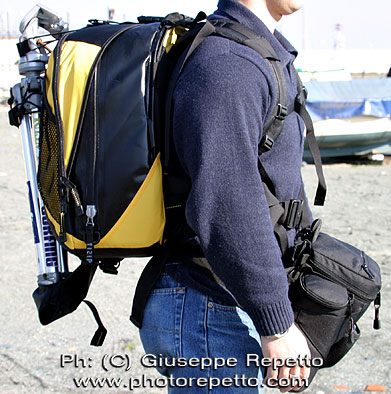 Lowepro Dryzone 200, Water resistant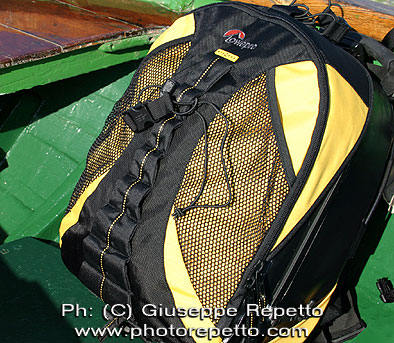 Lowepro Lens Trekker 600 AW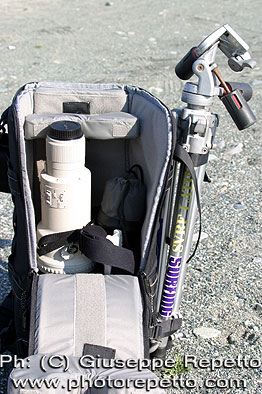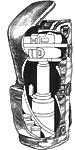 Lowepro Off Trail 2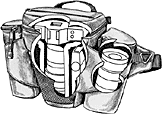 A versatile beltpack for a pro SLR, with inner and outer mesh pockets and a DryFlo mesh lumbar pad. Use one or both detachable lens cases, or substitute your favorite SlipLock add-ons.
capacity:
pro SLR (including a Nikon® F5) with 80–200mm f/2.8 lens attached (most makes), 2–3 more lenses and accessories
main compartment size (Interior):
7.25W x 6D x 11.25H in. (18.5 x 15 x 28.5 cm)
lens case size (Interior):
3.5D x 8.5H in. (9 x 21.5 cm)
outer fabric:
water-resistant 600D TXP™ and 600D TXP ripstop
LOWEPRO 600 AW
If you carry a big lens or a large professional video camera in the backcountry, this is the backpack for you. Lens Trekker 600 AW is the safe way to stow your big lens (up to 600mm) with a camera body attached and a tripod (in the Trekker Tripod Mount™). This year, it's better than ever, with a fully adjustable, built-in backpack harness that includes a padded back pad with lumbar support, Lowepro's comfy padded CollarCut™ straps and a padded waistbelt. Attachment loops on the shoulder straps take optional SlipLock™ add-ons. Comes with an All Weather Cover™, lens stabilizer and lens collar.
capacity:
large pro SLR with lenses from 300mm f/2.8 to 600mm f/4 (attached) or up to 800mm (without body attached), plus lens hood and tripod collar; or
pro SLR with 2 shorter lenses and accessories; or
pro video camera like Canon® XL1
size (exterior):
11W x 12.5D x 22H in. (28 x 32 x 56 cm)
size (exterior with tripod cup removed):
10W x 10D x 22H in. (25.5 x 25.5 x 56 cm)
size (interior):
8.5W x 8.5D x 20.5H in. (21.5 x 21.5 x 52 cm)
outer fabric:
water-resistant 600D TXP™ ripstop and 2000D ballistic nylon
LOWEPRO DRYZONE 200
DryZone is the world's first totally waterproof, soft-sided camera backpack. Even fully loaded, they float so your gear is always protected.
The inner drypod with patented, waterproof TIZIP™ zipper provides 100% watertight protection. It's like a drysuit for your equipment. When less protection is needed, leave the TIZIP open and fasten just the inner zipper and top clip for easier access. The heavy-duty, padded camera compartment inside is fully customizable while the outer shell comes complete with a technical backpack harness. Also included: ergonomic lumbar support; fully adjustable CollarCut™ shoulder straps; tuck-away tripod holder; self-draining mesh pockets; drain hole; rubber handle; and attachment loops for SlipLock™ accessories. DryZone packs are comfortable to wear and give you total peace of mind in extreme environments.
capacity:
large 35mm or digital pro SLR; 4–5 lenses (up to a 300mm
f/2.8, with hood reversed); flash and accessories; or
compact medium format system (like the Mamiya® 645); or
small field camera system; or
professional video system
size (Exterior):
14.5W x 11.5D x 19H in. (37 x 29 x 48.5 cm)
size (Interior):
12W x 6D x 17H in. (30.5 x 15 x 43 cm)
outer fabric (Waterproof Drypod):
waterproof plastic-coated nylon
outer fabric (Backpack):
water-resistant 600D TXP™ and 2000D ballistic nylon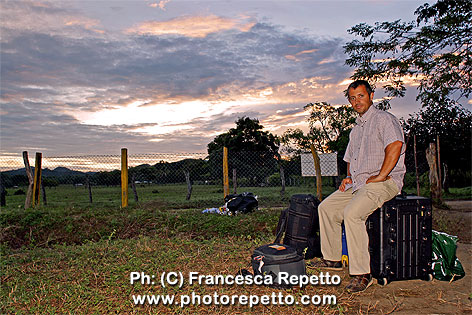 Me in Tamarindo ( Guanacaste - Costa Rica ) Airport
Pelican Case 1610, Lowepro 600 AW, Lowepro Off Trail 2, and Tamrach